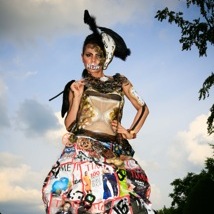 Art Couture Painswick
ACP is a charitable organisation that exists to promote joy, excellence and innovation in art by challenging interpretation of the human body as a canvas for creativity, unconstrained by age or experience.
Our annual festival in the middle of July provides the opportunity for entrants to compete for generous prizes of cash and prestigious work placements. Come and catch the catwalks of wearable art in a fabulous atmosphere created by live music, stalls and food set in the iconic St Mary's churchyard & throughout the centre of Painswick. Also, visit the Gallery to be inspired by the displays of ACP's most beautiful and flamboyant costumes. Our gift range, created almost exclusively by local artists, is tempting and unique. The gallery hosts creative workshops and is also available for private hire for soirées, pre-dinner drinks or an exclusive dinner party.
Address
Art Couture PainswickACP Gallery, The Painswick Centre, Bisley St, Painswick, Gloucestershire GL6 6SA
T 01452 812 605
E judie@canvasforcreativity.com
W acpfestival.co.uk
You may also be interested in